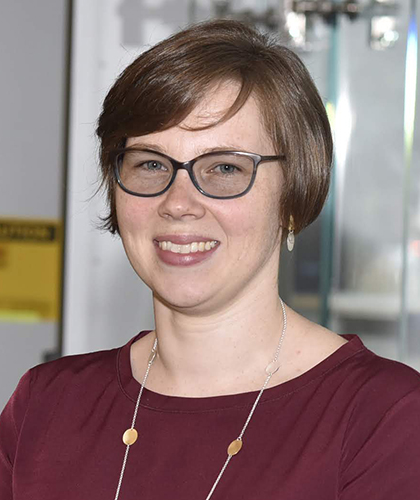 Maisel, Katharina
Assistant Professor

Fischell Department of Bioengineering
Robert E. Fischell Institute for Biomedical Devices

3120 A. James Clark Hall

B.S.E Materials Science and Engineering, University of Michigan 2010

Ph.D. Biomedical Engineering, The Johns Hopkins University 2014

NIH Postdoctoral Fellow, University of Chicago 
Dr. Maisel joined the University of Maryland in January 2019. Her interdisciplinary training combines nanotechnology, mucosal immunology, lymphatic immunology, and immunoengineering. The Maisel Lab uses in vitro modeling, nanotechnology, and immunoengineering approaches to study and develop treatments for diseases at mucosal surfaces. We are particularly interested in studying the lymphatics' and interstitial tissue's roles in disease pathology at mucosal surfaces and how the stromal compartment can be targeted for novel treatment strategies. This work creates not only crucial fundamental knowledge about stromal cell involvement in disease pathology, but also leads to novel targets and design criteria for therapeutics. ​
pronouns: she/her/hers
mucosal drug delivery
immunoengineering
lymphatic pathophysiology and targeting
modeling stromal cell compartments in vitro
understanding mucosal diseases
vaccine development
Two BIOE professors help author a roadmap to diversifying faculty hiring in STEM.
Incoming BIOE faculty member Erika Moore receives prestigious NSF CAREER Award for immune system research.
On May 8, 2023, 24 teams presented novel designs at the BIOE Capstone Design Competition.
BIOE's Gregg Duncan & Katharina Maisel were named 2022 Cellular & Molecular Bioengineering Young Innovators.
Assistant Professor Katharina Maisel publishes piece on the power of mentoring in
Science
.
Dr. Katharina Maisel was awarded a $1.8 million NIH NIGMS grant to study the interstitium and lymphatics.
Woehl and Zhang join four other Clark School faculty members who received CAREERs earlier this year.
Shelby Bensi, Gregg Duncan, Katrina Groth and Katharina Maisel are recipients of NSF CAREER grants.
BIOE assistant professors aims to improve efficacy of vaccines, immunotherapies
BIOE seniors present Capstone projects and celebrate winners virtually.
Bioengineering assistant professors awarded grants to advance lung health research.
Associate, assistant professors bring expertise in endothelial cell biology, mucosal drug delivery.