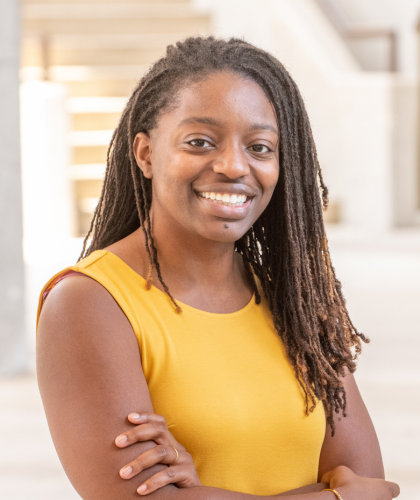 Moore, Erika
Assistant Professor

Fischell Department of Bioengineering

Dr. Erika Moore is an Assistant Professor within the Fischell Department of Bioengineering at the University of Maryland, College Park, where she serves as the Principal Investigator of the Moore Lab. Her academic journey includes the successful defense of her Ph.D. in Biomedical Engineering from Duke University in May 2018, after completing her Bachelor's degree in the same discipline at the Johns Hopkins University in 2013.
Following her postdoctoral fellowship at the Johns Hopkins University, Dr. Moore founded the Moore Lab in July 2020. The lab is steadfastly committed to engineering biomaterial models that harness the regenerative potential of the immune system, particularly addressing health disparities. Ongoing research at the Moore Lab encompasses a wide spectrum, ranging from modeling vasculitis in lupus to investigating age-related macrophage function, decoding extracellular matrix signaling's impact on macrophage activity, and examing ancestral influences on innate immune responses.
Dr. Moore's dedication extends beyond the laboratory, as she fervently advocates for professional development and financial literacy. A co-founder of #BlackInBME, she plays a pivotal role in providing support and mentorship to Black trainees and faculty members in the field of biomedical engineering. In alignment with her commitment to financial empowerment, she established Moore Wealth Inc., a nonprofit aimed at equipping students with essential financial literacy skills.
Dr. Moore's significant contributions earned her esteemed accolades including the NSF CAREER award in 2023, the 3M NonTenured Faculty Award in 2023 and 2022, the 2022 BMES Rita Schaffer Young Investigator Award, and the NIH R35 Maximizing Investigators' Research Award in 2022. Notably recognized as Forbes 30 Under 30 in Healthcare, Dr. Moore's exceptional trajectory showcases her as a distinguished figure making impactful strides in research, mentorship, financial education, and diversity advocacy.
Noteable Awards Include: 
2023     NSF CAREER Award, NSF
2023     3M Non-Tenured Faculty Award, 3M 
2023     Early Career Award, EDGE in Tech Athena Awards
2023     Emerging Scholar, Diverse: Issues In Higher Education's
2022     BMES Rita Schaffer Young Investigator Award, BMES
2022     3M Non-Tenured Faculty Award, 3M 
2022     N.I.H. R35, Maximizing Investigators' Research Award (MIRA)
2022     Constellation Prize for Financial Equity in Engineering, Constellation Prize
2021     Keystone Fellow, Keystone Symposia, Class of 2022
2020     Forbes 30 Under 30, Class of 2021- Healthcare
2020      KL2 Scholar, National Center for Advancement of Translational Science via UF Clinical Translational Science Institute 
2018      Rhines Family Rising Star Professorship (an endowed assistant professorship), The University of Florida
2018     Provost's Postdoctoral Fellowship, The Johns Hopkins University
2018     BME Award for Outstanding Doctoral Dissertation, Duke University Department of Biomedical Engineering
2017     M.I.T. Rising Star, MIT Rising Stars in Biomedical Engineering and Science
2017     Trustee, Duke University Board of Trustees
2016     NextProf Scholar, The University of Michigan NextProf for Engineering
2013     National Science Foundation Graduate Research Fellow, National Science Foundation
2013     Pre-doctoral Ford Foundation Fellow (awarded but declined), Ford Foundation Fellowship Program
2013     James B. Duke Fellowship, The Graduate School of Duke University
2013     Dean's Graduate Fellowship, The Graduate School of Duke University
2013     Inducted into Tau Beta Pi National Engineering Honor Society
2012     U.N.C.F./Merck Undergraduate Research Fellowship, U.N.C.F./Merck Science Initiative
2009     Hodson-Gilliam Success Scholar, Johns Hopkins University
The mission of the Moore Lab is to engineer biomaterial models to leverage the regenerative potential of the immune system across health inequities.
We execute on our mission by developing compassionate innovators equipped to transform biomedical research.
Read more about our research projects here: https://www.themoorelab.com/research. 
Find updates on our recent publications in Google Scholar. If you cannot access any of our publications, please email emt[at]umd.edu and we will provide a copy!
Two BIOE professors help author a roadmap to diversifying faculty hiring in STEM.
Incoming BIOE faculty member Erika Moore receives prestigious NSF CAREER Award for immune system research.