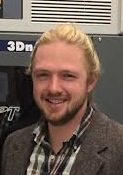 Gibbons, William T.
Post-Doc
Lecturer

Chemical and Biomolecular Engineering

4104 Chemistry Building University of Maryland, College Park

Maryland Engineering honored 70 undergraduates who exemplify the college's commitment to excellence at this year's ceremony event, held May 10 in the Stamp Student Union. Five were recognized with Dean's Awards.
Young group named ECS' first Outstanding Student Chapter.