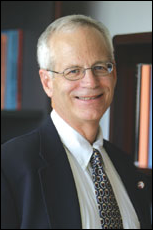 Mulholland, George W.
Chemical and Biomolecular Engineering

3130 Chemistry Building

EDUCATION
Ph.D., Cornell University, 1973
BACKGROUND
Dr. Mulholland carried out research in at the National Institute of Standards and Technology on the physical properties of smoke and on traceable particle calibration standards for particle size for 32 years before joining the faculty at the University of Maryland.
HONORS AND AWARDS
SAE International Arch T. Colwell Merit Award for outstanding paper at 2008 Annual Meeting
Award for best paper at the 7th International Fire Safety Science Meeting (2003)
National Institute of Standards Bronze Medals for Nanoparticle Sizing Metrology and for smoke research
Visiting Professor at Tokyo Science University and Pennsylvania State University
Properties of non-spherical particles including soot, aerosol dynamics, aerosol metrology traceable to SI Units, smoke detection.
Studying the alignment of rod shaped aerosols, doublets, and agglomerates to determine shape information based on electrical mobility and light scattering:  Currently there is a need to characterize the shape of nano-aerosol particles with online measurements for research and quality control needs.
Working with NASA in an International Space Station study on the effect of a micro-gravity environment on the properties of smoke:  The objective is to enhance fire detection in space flight.
Working with the Army in developing a primary standard for low particle number concentration for bio-aerosols:   Such a standard is motivated by the military's interest in detecting virulent biological structures.
Li, M., You, R., Mulholland, G. W. and Zachariah, M. R., "Mobility for Gold Rods in Electric Fields," Aerosol Sci. Tech., 47:1101-1107 (2013).
Mulholland, G.W., Zhou, L.,  Zachariah, M.R., Heinson, W.R., Chakrabarti, A. and  Sorensen, "C.,  Light Scattering Shape Diagnostics for Nano-Agglomerates," Aerosol Science and Technology, 47, 520-529 (2013).
Bueno, P., Havey, D., Gillis, K., Hodges, J., Mulholland, G., Dickerson, R. and Zachariah, M.R., "Amplification of the Optical Absorption Cross Section of Soot Aerosol with a Nonabsorbing Coating from Photoacoustic Measurements," Aerosol Science and Technology, 45, 1217 ( 2011).
R. A. Fletcher, G. W. Mulholland, M. R.Winchester, R. L. King, and D. B. Klinedinst, "Calibration of a Condensation Particle Counter Using a NIST Traceable Method," Aerosol Science and Technology, 43:425–441 (2009).
Urban, D.L.  Ruff, G.A., Mulholland, G.W., Cleary, T.G., Yang, J.C., Yuan, Z.G., "Measurement of Smoke Particle Size under Low-Gravity Conditions," 2008 International Conference on Environmental Systems, Chicago, IL, Paper 2008-01-2089.