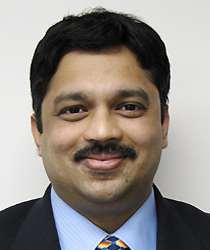 Raghavan, Srinivasa R.
Professor
Fischell Fellow

Chemical and Biomolecular Engineering
Brain and Behavior Institute
Fischell Department of Bioengineering
Robert E. Fischell Institute for Biomedical Devices

1227C Chemical and Nuclear Engineering Building

EDUCATION
Ph.D., Chemical Engineering, North Carolina State University–Raleigh, 1998
Self-assembled systems, containers for drug delivery, "smart" fluids, polymer and colloidal gels, polymer-CNT nanocomposites, scattering techniques/rheology.
H-Y. Lee, H. Oh, J. H. Lee and S. R. Raghavan. Shedding light on helical tubules: Real-time observations of tubule self-assembly by light microscopy. Journal of the American Chemical Society, 134, 14375 (2012)
S. J. Banik, N. J. Fernandes, P. C. Thomas and S. R. Raghavan. Creating polymer hydrogels with regions of distinct chemical, mechanical, and optical properties.Macromolecules, 45, 5712 (2012)
K. Sun, H. Oh, J. F. Emerson and S. R. Raghavan. A new method for centrifugal separation of blood components using a UV-curable gel. (Cover) Journal of Materials Chemistry, 22, 2378 (2012)
S. R. Raghavan and J. F. Douglas. The conundrum of gel formation by nanofibers, micelles, and proteins: Gelation without cross-links? Soft Matter, 8, 8539 (2012)
M. B. Dowling, R. Kumar, M. A. Keibler, J. R. Hess, G. V. Bochicchio and S. R. Raghavan. A self-assembling hydrophobically modified chitosan capable of reversible hemostatic action. Biomaterials, 32, 3351 (2011)
K. Q. Jiang, C. Xue, C. Arya, C. Shao, E. O. George, D. L. DeVoe and S. R. Raghavan. A new approach to micro-manufacturing: Microfluidic magnetic/fluorescent chains. (Frontispiece) Small, 7, 2470 (2011)
For a complete list and to download papers in PDF format, please visit Profesor Raghavan's web site.