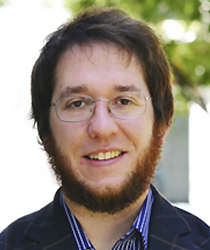 Woehl, Taylor J.
Associate Professor

Chemical and Biomolecular Engineering
Maryland Energy Innovation Institute
Materials Science and Engineering
Chemistry and Biochemistry

1223B Chemical and Nuclear Engineering Building

EDUCATION
NRC Postdoctoral Scholar, NIST, 2014-2016
Assistant Scientist III, Ames Laboratory, 2013-2014
Ph.D., Chemical Engineering, University of California, Davis, 2013
B.S., Ceramic Engineering, Missouri University of Science and Technology, 2009
HONORS AND AWARDS
2021 NSF CAREER Award, National Science Foundation
2019 Doctoral New Investigator, Petroleum Research Fund
2017 Ralph E. Powe Jr. Faculty Award, ORAU
2016 Research and Scholarship Award (RASA), University of Maryland
2014 NRC Postdoctoral Fellowship
2014 NIST MML Accolade award for service
2013 Zuhair Munir award for best dissertation in the College of Engineering, University of California, Davis 
Nanomaterial assembly, nucleation, protein aggregation, in situ electron microscopy, electrokinetics, nanochemistry
Formation mechanisms, chemical kinetics, and thermodynamics of nanocrystal formation.
Directed assembly of colloids, nanoparticles, and proteins with electric fields and chemical reactions. 
Stability of biopharmaceuticals, new microscopy methods for detecting and quantifying sub-visible and sub-micron particles.
Protein aggregation and gelation.
New optical and electron microscopy tools for nanomaterials and high order protein strcuture characterization.
Thermodynamics II (CHBE 302): Fall 2016, 2017
Mass and Energy Balances (CHBE 101): Spring 2018, 2019, 2020, 2021, 2022, 2023
Colloid and Interface Science (CHBE470/ENCH648f): Fall 2019, 2020
Chemical Engineering Seminar (ENCH609): Spring 2019, Fall 2019, Spring 2020, Fall 2021, Spring 2021
Chemical Processes in Beer Brewing (ENCH469): Fall 2023
M. Wang, C. Park, T.J. Woehl

, "Quantifying the Nucleation and Growth Kinetics of Electron Beam Nanochemistry with Liquid Cell Scanning Transmission Electron Microscopy." Chemistry of Materials 30, 2018, 7727-7736.

J. Zhang, Z. Lu, W. Wu, D. T. Tran, W. Shang, H. Chen, Y. Lei, Z. Lie, 

M. Wang, T.J. Woehl,

 

D. Liu, "

Mesopore differences between pillared lamellar MFI and MWW zeolites probed by atomic layer deposition of titania and consequences on photocatalysis" Microporous and Mesoporous Materials 276, 2018, 260-269.

A. Ferrick, M. Wang

, T.J. Woehl, "Direct Visualization of Planar Assembly of Plasmonic Nanoparticles Adjacent to Electrodes in Oscillatory Electric Fields," Langmuir 34, 2018, 6237-6248.
T.J. Woehl and P. Abellan, "Defining the Radiation Chemistry during Liquid Cell Electron Microscopy to Enable Visualization of Nanoparticle Growth and Degradation Dynamics," Journal of Microscopy 265, 2017, 135-147.