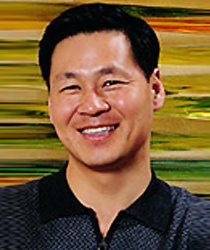 Kim, Jeong H.
Professor of Practice

Mechanical Engineering
Center for Risk and Reliability

3122 Jeong H. Kim Engineering Building

EDUCATION
B.E.S. in Electrical Engineering and Computer Science from Johns Hopkins University, 1982.
Ph.D. in Reliability Engineering from the University of Maryland, 1991.
BACKGROUND
Dr. Jeong H. Kim joined the Clark School of Engineering in January 2002 as Professor of Practice in Reliability Engineering with a joint appointment in the departments of Electrical and Computer Engineering and Materials and Nuclear Engineering. With the integration of the Reliability Engineering Program into the Department of Mechanical Engineering, Dr. Kim will become engaged in the life of mechanical engineering faculty and students, as well, conducting research, teaching classes and seminars, supervising student projects and thesis work, and interacting with students in various programs related to technology entrepreneurship.
The rank of Professor of Practice recognizes the impact of Dr. Kim's contributions and prominence in the practice of engineering. His technical expertise in communications, wireless technologies, and broadband optical systems and devices, coupled with his understanding of market trends and forces, makes him an excellent role model for our students.
Dr. Kim has had a distinguished career as an engineering entrepreneur. In 1992 he founded a successful telecommunications company,Yurie Systems, and pioneered the development of a revolutionary Asynchronous Transfer Mode Switch for wireless applications. The ATM switch became key in the modernization of telecommunications systems for today's digital market. Lucent Technologies acquired Yurie Systems in 1998, and Dr. Kim assumed a senior leadership position with Lucent. He has played a pivotal role in reshaping their optical communications division through a major restructuring of that division.
Dr. Kim's early career included work in computer design, satellite systems designs and data communications, as well as seven years as a Nuclear Submarine Officer in the U.S. Navy. He received his Ph.D. in Reliability Engineering from the University of Maryland in 1991, and holds a Master's Degree in Technical Management and Bachelor's degrees in Electrical Engineering and Computer Science from Johns Hopkins University. He is the recipient of numerous awards and honors including Ernst & Young's Emerging Entrepreneur of the Year Award, KPMG Peat Marwick LLP High Tech Entrepreneur Award, and the Maryland High Technology Council Entrepreneur of the Year Award.
Recognizing the current and future importance of these areas to the University of Maryland and the region's high technology economy, the state of Maryland has planned a new campus facility, the Jeong H. Kim Engineering and Applied Sciences Building. This 160,000 square foot building will significantly improve the college's physical infrastructure and enhance and accelerate research and education in both core subjects and emerging technologies. The building will house some of the most sophisticated engineering and research and educational laboratories in the nation; every aspect of the building will be used to educate tomorrow's engineers. A Virtual Groundbreaking of the building was held on May 14, 2003 at the University's Clarice Smith Performing Arts Center.
HONORS AND AWARDS
• Member of National Academy of Engineering
• Ernst & Young's Emerging Entrepreneur of the Year Award
• KPMG Peat Marwick LLP High Tech Entrepreneur Award
• Maryland High Technology Council Entrepreneur of the Year Award
Communications, Wireless technologies, Optical networking systems, Computer design, Nuclear engineering, Satellite systems, Data communications
National Academy of Engineering (NAE)