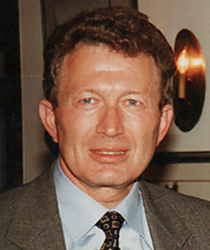 Mayergoyz, Isaak D.
Distinguished University Professor
Alford L. Ward Professor
Distinguished Scholar-Teacher

Electrical and Computer Engineering

A.V. Williams 2335

BACKGROUND
Prof. Mayergoyz received his Master and Ph.D. degrees in the former Soviet Union where he worked as a senior research scientist in the Institute of Cybernetics of Ukranian Academy of Sciences before his emigration to the United States. On his arrival to the United States in 1980, he became a full professor of the Electrical and Computer Engineering Department of University of Maryland, College Park. In cooperation with Prof. Fawzi Emad, he established the electric power engineering curriculum and educational program in the ECE Department and has maintained it for more than 40 years. For many years, he served as a consultant for the Research and Development Center of General Electric Company and participated in the development of MRI systems. He has been selected as a visiting research fellow of this center. He has authored and coauthored 14 books and over 400 scientific papers. He is a Fellow of IEEE (1988), Visiting Research Fellow of GE Research and Development Center (1988), Distinguished Lecturer of the IEEE Magnetics Society (1994), Distinguished Scholar-Teacher of University of Maryland, College Park (1994) and a recipient of Outstanding Teacher Award of College of Engineering (1987). In 2009, he received the Achievement Award of the Institute of Electrical and Electronics Engineers (IEEE) Magnetics Society, the highest award given by the society. He was appointed Distinguished University Professor in 2018. He has served on numerous IEEE committees, editorial boards of scientific journals and as the Editor of Academic Press-Elsevier Electromagnetism series.
HONORS AND AWARDS
Distinguished University Professor, University of Maryland (2018)
Selected for prestigious cover of IEEE Magnetics Letters (2017)
IEEE Magnetics Society Achievement Award (2009)
Member and past Chair of IEEE Magnetics Society Achievement Award Selection Committee (2010-present)
Winner, UM $50K Business Competition, Faculty & Graduate Student Category (2006)
Distinguished Scholar-Teacher Award, University of Maryland (1995-1996)
College of Engineering Poole and Kent Senior Faculty Teaching Award (1987)
IEEE Fellow (1987)
IEEE Magnetic Society Distinguished Lecturer (1994)
George Corcoran Award, ECE Department, University of Maryland (1982)
Outstanding Professor Award of the IEEE Student Branch of University of Maryland (1982)
Member and Chair of IEEE Fellows Evaluation Committee of Magnetics Society (2003-2006)
Member of Editorial Board of IEEE Transactions on Magnetics (1997-present)
Editor of Academic Press-Elsevier Electromagnetism Series (1996-2009)
Member of Administrative Committee of IEEE Magnetics Society (1997-2003)
Editor of IEEE Transactions on Magnetics (1997-2001)
Coordinator of IEEE Magnetics Society Distinguished Lecturer Program (1996-2002)
Member of Edison Medal Committee of IEEE Award Board (1989-1991)
Associate Editor of "COMPEL," International Journal on Numerical Computations and Mathematics in Electrical and Electronic Engineering (1981-1995)
Research Fellow of GE Research Development Center
Electrostatic (Plasmon) Resonances in Metallic and Semiconductor Nanoparticles, Spintronics, Nonlinear Magnetization Dynamics in Nanosystems, Analysis of Fluctuations in Ultra Small (Nano) Semiconductor Devices, Mathematical Modelling of Hysteresis, Drive Independent Recovery and Forensics of Hard Disk Data ,Computational Electromagnetics,Power Engineering
Institute of Electrical and Electronics Engineers (IEEE)